Tom's Journal.
http://tomschuckmanjournal.blogspot.com/
tschuckman@aol.com
Dear Friends,
I just stumbled on a great, fine, Christian Blog, and dearly want to share it with you ! Some great things have been happening to me recently, as I just attended a new, bible teaching church in my area, with friendly people who welcomed me, clean, cool, and close by my house. So, I am very happy and grateful ! Smile. And, thank you all for visiting my own humble blog, too. You make my heart rejoice, when the rest of the 'world' finds only heart break and misery.
This is the hot, muggy, humid, season, now, in the USA, and our electric bills soar from using out Air Conditioning, but we need it to survive and stay healthy. Pity the many people in the world who cannot afford this luxury, and many people die from the excessive heat. I live / rent for now, in an old house that needs much repair, but a humble, retired, disabled man like me is THANKFUL and GRATEFUL to just have a big old house like I do, with a very safe, kind, friendly, non-violent neighborhood !! I have learned to be satisfied and comfortable, and I have some nice friends to come over and help me keep is clean and sanitary. PTL. I have plenty of good food and pure drinking water, so I feel very glad and peaceful, lacking nothing.
Enjoy.
Warm Regards,
Tom Schuckman
Israel Warns Future War with Hezbollah Will Be 'Ferocious'
Verse of the Day
Psalm 27:3 Though an host should encamp against me, my heart shall not fear: though war should rise against me, in this will I be confident.

Commentary
Tensions keep building throughout the world, but this is a direct statement of what is certain to occur at some point – another war in the Middle East involving Israel. Estimates of Hezbollah's stockpiled rockets range up to 150,000 and when fighting breaks out, they will be directed straight at Israel. How could such a conflict be anything except ferocious?
Because we know the word of God, we know how it will end, and that's with the destruction of Hezbollah. Prophecy makes it clear that all of the nations surrounding Israel who come against it will suffer defeat. That's been true of every conflict in which Israel has been engaged since its founding as a state. God is faithful and will fulfill his word, so there's no doubt how future conflicts ultimately will end.
But the Islamic nations and terrorist groups who view Jerusalem as the ultimate prize won't rest until they try to take it since they don't believe in God's Word, the Bible. Because of that, they're going to pay a heavy toll because prophecy will be fulfilled. The concern is that if war begins it will spiral into world war 3, because that is coming as well. It won't be Armageddon, but it will be devastating.
May the Holy God of Israel bless and protect you.
1 Samuel 19:8 And there was war again: and David went out, and fought with the Philistines, and slew them with a great slaughter; and they fled from him.
The Coming Middle East War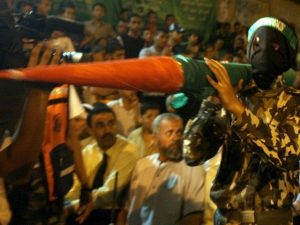 Israel Warns Future War with Hezbollah Will Be 'Ferocious' 07/24/16
This article confirms what we stated in the comments to an earlier post on Hezbollah in Lebanon, that the next war between them and Israel will be "extremely deadly."
"When Israeli army commanders describe how the next war against Hezbollah could unfold, they often search for words not used in military manuals. The future conflict, they warn, will be "ferocious" and "terrible."

For both sides, the Israelis fear. Yet far worse for Hezbollah and the civilians of Lebanon, they promise.

Ten years after Israel and Hezbollah fought a bloody but inconclusive 34-day war that left more than 1,000 soldiers and civilians dead in July and August of 2006, the Lebanese Shiite militant group has been transformed.

Hezbollah is now a regional military power, a cross-border strike force, with thousands of soldiers hardened by four years of fighting on Syrian battlefields on behalf of President Bashar al-Assad. There are 7,000 Hezbollah fighters in Syria, Israeli commanders say.

Hezbollah troops have been schooled by Iranian commanders, funded by Tehran and have learned to use, in combat, some of the most sophisticated armaments available, such as fourth-generation Kornet guided anti-tank missiles. They pilot unmanned aircraft and fight alongside artillery and tanks. They have taken rebel-held villages with Russian air support.

More than 1,000 Hezbollah fighters have died, the Israelis say; they do not describe Hezbollah as "demoralized" but "tested."

"In 2006, Hezbollah fought a guerrilla war. Today, Hezbollah is like a conventional army," said Elias Hanna, a retired Lebanese army general who teaches at the American University of Beirut."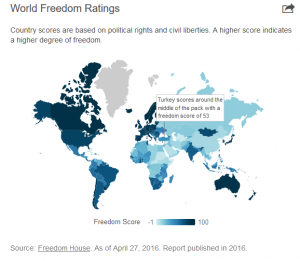 Turkish lawmakers give Erdogan sweeping new powers after failed coup 07/21/16
As we've been reporting, this appears to be a 'false flag' event so that Erdogan can consolidate power and proceed with his plans for an Islamic caliphate in conjunction with ISIS, and fulfill his dreams of a revived Ottoman Empire. See our previous 'Insights' post at:
FALSE FLAGS & the END of Secularism in Turkey
"Turkish lawmakers declared a three-month state of emergency Thursday, overwhelmingly approving President Recep Tayyip Erdogan's request for sweeping new powers to expand a government crackdown after last week's attempt military coup.

Parliament voted 346-115 to approve the national state of emergency, which will give Erdogan the authority to extend detention times for suspects and issue decrees that have the force of law without parliamentary approval, among other powers.

Erdogan, who had been accused of autocratic conduct even before this week's crackdown on alleged opponents, says the state of emergency will counter threats to Turkish democracy.

Even without the emergency measures, his government has already imposed a crackdown that has included mass arrests, mass firings and the closure of hundreds of schools. Erdogan said the new powers would allow the government to rid the military of the "virus" of subversion, blaming the coup attempt on a U.S.-based Muslim cleric, Fethullah Gulen. The cleric has strong denied any knowledge of the attempted coup."
Islam – Jihad
Refugee hacks pregnant woman to death with machete 07/24/16
Notice that this is the third fatal attack in Germany in the just over a week, and once again, the media is covering for an Islamic refugee. Even though he was involved in previous incidents, they're denying that this one is related to Islam. Europe is under judgment and on its last legs because it refuses to acknowledge God. It has been given over to Islam and seems just to be accepting its fate.
"Less than a week after a Muslim teen from Afghanistan used an ax to slash passengers aboard a train in Germany, a Syrian refugee in Germany used to a machete to hack to death a pregnant woman Sunday before he was run over by a man driving a BMW.

The attack took place in the southwestern city of Reutlingen at a kebab shop in a bus station at Listplatz Square.

News media in Germany have been reporting the motive for the attack remains unclear, adding, the incident "did not bear the hallmarks of a terrorist attack."

Images on social media show the assailant with a bloody forehead but alive on the ground after police arrived on the scene. Local media report that the man argued with the woman before attacking her.

Published reports indicate a man driving a BMW was passing the incident and struck him with his car, knocking him to the ground, before police arrived to detain him.

An eyewitness told the German newspaper Bild: "The perpetrator was completely out of his mind. He ran with his machete even behind a patrol car." …"According to the information available, the perpetrator acted alone, the people of Reutlingen and its surroundings are very probably not in danger," the statement added.

Police say the asylum-seeking Syrian had been involved in previous incidents causing injuries to other people, though they had no immediate information on when those previous incidents occurred.

Germans are suffering from a spree of recent violence. On Friday night, a rampage at a Munich mall left nine people dead."
American Politics
"Hillary Clinton goes into convulsions during interview, then appears to try to play it off as a joke afterward. It is possible she has some sort of illness, or thinks it is funny to mock people with seizures."
World War 3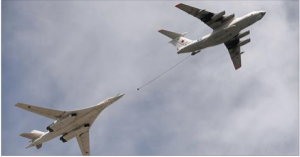 War Fever 07/18/16
War is coming. They know it in Russia, but here, where the mainstream media is controlled and the facts about what is occurring between NATO and Russia are kept out of the news for the most part, people seem oblivious to how events are shaping up. People in Russia are preparing, as this article shows, but here no one seems to be paying attention. Find your refuge in Christ; that is the only preparation which will matter.
"In the past two months, I've traveled to the Baltic region, to Georgia, and to Russia. Talk of war is everywhere.

In Estonia, at the Lennart Meri security conference, we take a bus two and a half hours to the east of Tallinn, to Narva, a city on the border with Russia, for a discussion: "What is Narva Afraid of?" a variant on the geo-political debate: "Is Narva Next?"

The question, as any Russia-watcher knows, translates into: Would Russia invade and occupy this NATO member-nation, dispatching its tanks and troops across the bridge that separates Narva from the Russian city of Ivangorod, or, could it employ the tactics of hybrid war that it used in Ukraine?

Estonian officials I speak with doubt Russia would challenge NATO with an outright invasion, but something less clear, less defined, something harder for NATO to respond to? Perhaps…."
Christian Apostasy/ Homosexuality
"Canada's Anglican Church has provisionally voted to amend its rules to allow clergy to celebrate same-sex marriages, a day after it narrowly defeated the measure.

The General Synod will hold a second reading on the measure in 2019. If it passes, the Canadian church will join the Episcopal Church, which formally approved marriage ceremonies regardless of gender in 2015. As a consequence, the Anglican Communion placed temporary restrictions on the Episcopal Church.

On Monday (July 11), more than 200 delegates attending the Canadian church's General Synod north of Toronto voted to reject same-sex marriage by a single vote after an emotional and divisive debate.

Some bishops, including Toronto Archbishop Colin Johnson, declared they would perform same-sex marriages despite the outcome.

"We cannot leave this synod with this kind of confusion," Archbishop Fred Hiltz, primate of the Canadian church, told stunned delegates and clergy attending the six-day synod, held every three years to establish church policy.

To pass, a resolution requires two-thirds support from each of the three orders, or bodies, within the Canadian church: laity, clergy and bishops."
Hard Left/ Homosexuality
Judge to monitor Kansas' actions on gay marriage for 3 years 07/22/16
Notice how the hard left is enforcing compliance with its agenda and "monitoring compliance" with the same-sex marriage decree. The reason for this monitoring? Because Kansas voters had the temerity to approve a state constitutional amendment limiting marriage to a man and a woman.
"A federal judge told Kansas on Friday that for three more years he will monitor its compliance with the U.S. Supreme Court's historic decision legalizing gay marriage across the nation.

U.S. District Judge Daniel Crabtree issued a permanent barring the state from treating same-sex couples differently than opposite-sex couples in allowing them to marry or extending "other rights, protections, obligations or benefits of marriage" to them…

"It is disappointing the federal court thinks Kansas judicial and executive branch personnel require ongoing federal supervision," she said in an email.

Crabtree ruled in a lawsuit filed in 2014 by five gay and lesbian couples against officials in the state's health and revenue departments, as well as two local court clerks. The health department maintains marriage and birth records, while the Department of Revenue handles tax filings and issues driver's licenses.

Kansas law already barred gay marriage when the state's voters in 2005 approved an amendment to the state constitution to reinforce the ban. The amendment declared that only heterosexual couples were entitled to "the rights or incidents of marriage."

The U.S. Supreme Court issued its decision on gay marriage last year, and two months later Crabtree declared the state's ban unconstitutional. But he held off on issuing a permanent order to see how fully the state complied."

Titus 3:10-11 A man that is an heretick after the first and second admonition reject;

Knowing that he that is such is subverted, and sinneth, being condemned