Tom's Journal.
http://tomschuckmanjournal.blogspot.com/
tschuckman@aol.com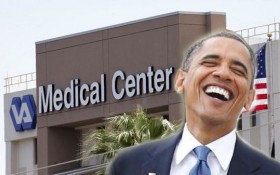 VA whistleblower hunted by Obama administration
President Barack Obama's shameful legacy will be marred by his administration's constant mistreatment of our country's veterans — and just when it seemed it couldn't get worse, Obama's disastrous mismanagement of the Department of Veterans Affairs finds a way to reach a new low.
A new report claims the controversial agency allowed retaliation against the employee who alerted Congress to the poor treatment of veterans in Colorado.
According to the whistleblower, the VA corruption has gotten so bad, only President-elect Donald Trump can fix things.
Brian Smothers, who told Congress the agency was using unauthorized wait lists for mental health care in Colorado, has resigned after he was subjected to retaliation for speaking out.
Brian Smothers told
The Associated Press
Wednesday the VA had opened two separate inquiries into his actions and tried to get him to sign a statement saying he had broken VA rules. He said he refused.
Smothers also said that Obama's VA reassigned him to an office with no computer access, no significant duties and no social contact.
He called the VA's actions punitive and his working conditions intolerable. He said he resigned as of Tuesday.
VA officials had no immediate comment on Smothers' claim that he was punished for speaking up but said the agency does not tolerate retaliation. They said previously they take any allegation about unauthorized wait lists seriously and were cooperating with an inquiry.
Smothers alleges that Colorado VA facilities in Denver and suburban Golden used unauthorized wait lists for mental health services from 2012 until last September. He said the lists hid how long it takes for veterans to get treatment and made the demand for mental health care appear lower than it really was.
He said the longer that veterans have to wait for mental health care, the less likely they are to use it when it becomes available.
"It was totally unacceptable to me," Smothers said.
He added: "It's my hope that the incoming administration (of president-elect Donald Trump) goes and fires people."
Smothers estimated the lists contained 3,500 entries but did not know how many individual veterans were on them because some names appeared multiple times. It was not immediately clear how long veterans on the lists had to wait for care.
Unofficial wait lists have been used by VA health care facilities elsewhere. The discovery of the lists created a nationwide scandal in 2014 when 40 veterans died while waiting for appointments at a Phoenix VA hospital.
Smothers was a peer support specialist on the VA's post-traumatic stress disorder clinical support team in Denver. He said he started the job in April 2015.
Smothers went to Republican Sens. Ron Johnson of Wisconsin and Cory Gardner of Colorado in September, saying he had uncovered the unauthorized lists on spreadsheets in the VA computer system. He also said a veteran had taken his own life while waiting for PTSD treatment at a Colorado Springs VA clinic.
At Johnson and Gardner's request, the VA inspector general's office — the agency's internal watchdog — opened an inquiry into Smothers' claims. A spokesman for the inspector general did not immediately respond Wednesday to a telephone message seeking comment.
Gardner said in a written statement that he was troubled by the circumstances of Smothers' resignation.
"This employee's communication with my office is protected by federal law," he said. Gardner said he has asked the inspector general to look into whether the VA retaliated against Smothers.
Johnson said he too is concerned about Smothers' case.
"My office will continue to work with the U.S. Office of Special Counsel to ensure that federal employees who blow the whistle do not suffer any retaliation," he said in an email.
The Office of Special Counsel is an independent federal agency that protects whistleblowers.
Smothers told the AP he had emailed copies of the spreadsheets to himself so he could provide them as evidence. The VA later warned 2,100 veterans that their personal information may have been compromised by that, although the agency did not identify Smothers as the person involved.
Smothers told the AP he also offered copies of the spreadsheets — with the veterans' identifying information removed — through Amazon.com's self-publishing book service in order to preserve them in a public format. Smothers said two copies of the list have sold through Amazon: He bought one, and the inspector general's office bought the other.
Smothers also provided redacted versions of the spreadsheets to the AP that do not contain the identifying information.
Smothers said that after he contacted the senators, the VA investigated whether his actions had violated agency rules and concluded they had not. He said the VA opened a second inquiry after discovering he had offered the lists on Amazon. That inquiry was still underway when he resigned, he said.
Smothers said the VA learned the lists were on Amazon by looking at his social media posts. He said that demonstrated the VA was monitoring him even after clearing him in its first inquiry.
The Associated Press
Friends,
I told you so ! As smart and well trained Mr. Trump is, I still don't think he can pull this trick off and save the world. It's really up to God.
Tom Schuckman
"Obama Set Up the Next President For a Major Recession"… And A Giant Crash Is Coming
This article was written by Michael Snyder and originally published at his Economic Collapse blog.
Editor's Comment: The past many months have carried a lot of noise about the coming crash, about a tipping point that may be fast approaching. The economics are simply giving way, and they can't hold the illusion forever. Now that Donald Trump will be calling the shots, the money powers can usher in collapse if they wish, and have ready their scapegoat. It won't just be Trump the man or the president, but the people who elected him, who backed Brexit and who gave up on their system. They people who let loose the chaos that now consumes us.
Their rage, their anger and their desperation is brewing unrest. The ascent of populism in the political arena has put the establishment in retreat, and revealed, at last, a most dangerous atmosphere, from which collapse can properly precipitate … one in which all regulatory steadiness on the part of the system has been thrown off balance and out of whack by popular revolt. By the time the hammer falls, and the markets fall to the ground, the people rioting in the streets and losing their civility when ATMs stop working and store shelves go empty – these people will become the face of the disaster. The banks have been planning the next rise and fall for sometime; the next phase is all digital, and tightly monitored and controlled.
We Are Being Set Up For Higher Interest Rates, A Major Recession And A Giant Stock Market Crash
by Michael Snyder
Since Donald Trump's victory on election night we have seen the worst bond crash
in 15 years
. Global bond investors have seen trillions of dollars of wealth wiped out since November 8th, and analysts are warning of another tough week ahead. The general consensus in the investing community is that a Trump administration will mean much higher inflation, and as a result investors are already starting to demand higher interest rates. Unfortunately for all of us, history has shown that higher interest rates always cause an economic slowdown. And this makes perfect sense, because economic activity naturally slows down when it becomes more expensive to borrow money. The Obama administration had already set up the next president
for a major recession
anyway, but now this bond crash threatens to bring it on sooner rather than later.
For those that are not familiar with the bond market, when yields go up bond prices go down. And when bond prices go down, that is bad news for economic growth.
So we generally don't want yields to go up.
Unfortunately, yields have been absolutely soaring over the past couple of weeks, and the yield on 10 year Treasury notes has now jumped
"one full percentage point since July"
…
The 10-year Treasury yield jumped to 2.36% in late trading on Friday, the highest since December 2015, up 66 basis point since the election, and up one full percentage point since July!
The 10-year yield is at a critical juncture. In terms of reality, the first thing that might happen is a rate increase by the Fed in December, after a year of flip-flopping. A slew of post-election pronouncements by Fed heads – including Yellen's "relatively soon" – have pushed the odds of a rate hike to 98%.
As I noted
the other day
, so many things in our financial system are tied to yields on U.S. Treasury notes. Just look at what is happening to mortgages. As
Wolf Richter has noted
, the average rate on 30 year mortgages is shooting into the stratosphere…
The carnage in bonds has consequences. The average interest rate of the a conforming 30-year fixed mortgage as of Friday was quoted at 4.125% for top credit scores. That's up about 0.5 percentage point from just before the election, according to Mortgage News Daily. It put the month "on a short list of 4 worst months in more than a decade."
If mortgage rates continue to shoot higher, there will be another housing crash.
Rates on auto loans, credit cards and student loans will also be affected. Throughout our economic system it will become much more costly to borrow money, and that will inevitably slow the overall economy down.
Why bond investors are so on edge these days is because of statements such as this one
from Steve Bannon
…
In a nascent administration that seems, at best, random in its beliefs, Bannon can seem to be not just a focused voice, but almost a messianic one:
"Like [Andrew] Jackson's populism, we're going to build an entirely new political movement," he says. "It's everything related to jobs. The conservatives are going to go crazy. I'm the guy pushing a trillion-dollar infrastructure plan. With negative interest rates throughout the world, it's the greatest opportunity to rebuild everything. Ship yards, iron works, get them all jacked up. We're just going to throw it up against the wall and see if it sticks. It will be as exciting as the 1930s, greater than the Reagan revolution — conservatives, plus populists, in an economic nationalist movement."
Steve Bannon is going to be one of the most influential voices in the new Trump administration, and he is absolutely determined to get this "trillion dollar infrastructure plan" through Congress.
And that is going to mean a lot more borrowing and a lot more spending for a government that is already on pace to add
2.4 trillion dollars
to the national debt this fiscal year.
Sadly, all of this comes at a time when the U.S. economy is already starting to show significant signs of slowing down. It is being projected that we will see a sixth straight decline in year-over-year earnings for the S&P 500, and industrial production has now contracted
for 14 months in a row
.
The truth is that the economy has been barely treading water for quite some time now, and it isn't going to take much to push us over the edge. The following comes
from Lance Roberts
…
With an economy running at below 2%, consumers already heavily indebted, wage growth weak for the bulk of American's, there is not a lot of wiggle room for policy mistakes.
Combine weak economics with higher interest rates, which negatively impacts consumption, and a stronger dollar, which weighs on exports, and you have a real potential of a recession occurring sooner rather than later.
Yes, the stock market soared immediately following Trump's election, but it wasn't because economic conditions actually improved.
If you look at history, a stock market crash almost always follows a major bond crash. So if bond prices keep declining rapidly that is going to be a very ominous sign for stock traders.
And history has also shown us that no bull market can survive a major recession. If the economy suffers a major downturn early in the Trump administration, it is inevitable that stock prices will follow.
The waning days of the Obama administration have set us up perfectly for higher interest rates, a major recession and a giant stock market crash.
Of course any problems that occur after
January 20th, 2017
will be blamed on Trump, but the truth is that Obama will be far more responsible for what happens than Trump will be.
Right now so many people have been lulled into a sense of complacency because Donald Trump won the election.
That is an enormous mistake.
A shaking has already begun in the financial world, and this shaking could easily become an avalanche.
Now is not a time to party. Rather, it is time to batten down the hatches and to prepare for very rough seas ahead.
All of the things that so many experts warned were coming may have been delayed slightly, but without a doubt they are still on the way.
So get prepared while you still can, because time is running out.
This article was written by Michael Snyder and originally published at his Economic Collapse blog