Tom's Journal.
http://tomschuckmanjournal.blogspot.com/
tschuckman@aol.com
Everybody Wants To Rule The World
Aren't we all happy how the lower

IQ's

voted for

obama

?? Heck, we still don't really know where he was born...

lol

. I was wondering when Messiah would get around to shafting America's service- connected disabled combat Veterans. That 'cheap Charlie'

obama

has no honor! So what do you all think about the 90% of Black Soldiers [even in the Army] and other 'citizens' who voted for their 'messiah' now?
I am guessing that our Armed Forces will "look a lot different" pretty soon as the smart ones with good memories will re-consider re-enlisting when they now understand they will get the shaft from the Dims and 'boy wonder.' ENJOY the factual article below. The U.S. Constitution means NOTHING now! Most of America has sold it's soul to the devil, IMHO--- and I am seriously praying for God's 'Kingdom to come' soon.
I think that my old eyes have seen quite enough now as everything sacred is going down the tube and

obama

has his hand on the flush lever. This sure reminds me of Genesis 18: 32, where the Lord told Lot that He would not destroy Sodom if only Lot found 9 righteous souls there... Ha! I figure that for the sake of the millions of aborted babies in the U.S. ALONE, God surely has the 'right' to destroy us-- but then 52% of the voters elected a man who champions Bloody Abortion,

plus the Gay agenda, aborted fetus cells, and our God given Rights and Freedoms! For these reasons and more, many well studied Christians feel that we are well into the "end times" when the Lord Jesus Christ could come back to claim his true, active followers SOON! I "want to be in that number"-- 'when the Saints go marching in.' And much WOE to the people who are left behind....
as they have already picked their own goofy, human, clown, messiah.
And, yes, it's

that

important that I continue on like a broken record to sound the alarm and share this Gospel of Jesus Christ in the year 2009. If Obama continues to go against Almighty God with all his sinful, selfish, stupid endeavors and perversions--- there is NO WAY that I can respect or support him. I obey God as ruler-- rather than man.
Shame on the President AND the Congress!
Thank you, Carolyn, for sharing this important article with me.

Hugs,

Old Soldier Tom

WASHINGTON (CNN) -- Veterans Affairs Secretary Eric Shinseki confirmed Tuesday that the Obama administration is considering a controversial plan to make veterans pay for treatment of service-related injuries with private insurance.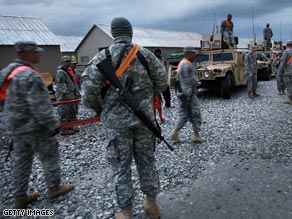 Lawmakers say they'd reject a proposal to make veterans pay for treatment of war wounds with private insurance.
But the proposal would be "dead on arrival" if it's sent to Congress, Sen. Patty Murray, D-Washington, said.
Murray used that blunt terminology when she told Shinseki that the idea would not be acceptable and would be rejected if formally proposed. Her remarks came during a hearing before the Senate Committee on Veterans Affairs about the 2010 budget.
No official proposal to create such a program has been announced publicly, but veterans groups wrote a pre-emptive letter last week to President Obama voicing their opposition to the idea after hearing the plan was under consideration.
The groups also cited an increase in "third-party collections" estimated in the 2010 budget proposal -- something they said could be achieved only if the Veterans Administration started billing for service-related injuries.
Asked about the proposal, Shinseki said it was under "consideration."
"A final decision hasn't been made yet," he said.
Currently, veterans' private insurance is charged only when they receive health care from the VA for medical issues that are not related to service injuries, like getting the flu.
Charging for service-related injuries would violate "a sacred trust," Veterans of Foreign Wars spokesman Joe Davis said. Davis said the move would risk private health care for veterans and their families by potentially maxing out benefits paying for costly war injury treatments.
A second senator, North Carolina Republican Richard Burr, said he agreed that the idea should not go forward.
"I think you will give that up" as a revenue stream if it is included in this April's budget, Burr said.
Murray said she'd already discussed her concerns with the secretary the previous week.
"I believe that veterans with service-connected injuries have already paid by putting their lives on the line," Murray said in her remarks. "I don't think we should nickel and dime them for their care."
Eleven of the most prominent veterans organizations have been lobbying Congress to oppose the idea. In the letter sent last week to the president, the groups warned that the idea "is wholly unacceptable and a total abrogation of our government's moral and legal responsibility to the men and women who have sacrificed so much."
The groups included The American Legion, Disabled American Veterans, Military Order of the Purple Heart, Veterans of Foreign Wars of the United States, and Iraq and Afghanistan Veterans of America.
At the time, a White House spokesman would neither confirm nor deny the option was being considered.
Love, Carolyn


"Do not store up for yourselves treasures on earth, where neither moth nor rust destroys, and where thieves break in and steal. But store up for yourselves treasures in heaven, where neither moth nor rust destroys, and where thieves do not break in and steal; for where your treasure is, there is your heart also."
Matthew 6:19-21,